MISCELLANEOUS DOLLS
Deluxe Reading Penny Bright. Very Good. $5
Walking Doll. Marked 1988 L.G.T.I. Made in China. $4
Tiny Cheerful Tearful. Ideal. SOLD
Deluxe Reading Suzie Cute SOLD
Lucy from Charlie Brown. 7". Marked 1952. United Feature Syndicate Inc. Made in Hong Kong. All limbs are jointed at the body. Original panties. $10
Squeaky Stewardess by Eldon. 5 1/2". Probably from the 1960's. Arms and legs move. Her hands are made so that it looks like she holds something. $5
Topsy Turvey Doll - Little Red Riding Hood/Grandma with Wolf on other side. 8". Very well constructed. Looks like from the 70's or 60's. No tags. $3
Old Fashioned Pug Dog. In original Wrapper. Marked Shackman. Looks like a reproduction type stuffed dog made to look old. $2
Christmas Town Figures. Mint in original box. 4 adults and 2 children Men 7", Women 6", Children 4 1/2". They are porcelain with stiff velvet outfits. They are posable and have loops for hanging on a christmas tree. Complete set $8.
3-Face Baby Doll. 12". Ceramic head, hands, legs. No markings. If handmade, very well made. Happy Face, Sleeping Face, Crying Face. Dressed in white full slip, long sleeved dress and matching bonnet. Sold
17" Porcelain doll. Open/Close eyes. Very nice. Dressed in original Dress, pantaloons, bonnet, leather-look boots. $5
Pincushion Doll 9". Very well made. No label. If homemade, super job. $2
14" Cloth printed doll. Very well constructed. $1
15" Handmade painted face cloth doll. $1 Very well made.
14" Handmade old cloth doll. Embroidered face, including ears. Has individual fingers on each hand. This doll is stuffed very hard. This doll is possibly from the 60's. $2
Charlie's Angel 7 1/2" Kate Jackson. Nude. $1
Ron from the Dawn Series. Topper 6 1/2" 1970. Very good. He needs a little cleaning and his nose may be nicked. $3
6 1/2" Unknown doll $.50
4 1/2" Avon Wee Lil Miss Mini. Her package has never been opened. On the back of the package it says that if you put her hair in hot water, it changes to pink, her eyes close, and the heart on her cheek disappears. Icy cold water reverses the changes. Dated 1992. $3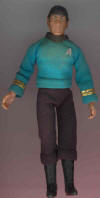 Star Trek Spock. 7 1/2. Marked Mego Corp 1974. Doll in very good condition. Original top is slightly soiled. Includes pants and boots. $7

Fisher toys. Marked as Fisher Toys Hong Kong. 5 1/2". From the late 70's. Excellent. Her bonnet elastic has stretched with age. $1
Mattel Rosebud look alike. 6" Hong Kong markings. from the late 1970s. Excellent. Still has her hairnet on. $3

Ideal 7". Cute doll with arms & legs that lengthen and shorten like straws. Excellent. All original. $5
5" Strawberry Shortcake look alike. Marked Lanard Hong Kong. All original outfit and shoes. Excellent. $2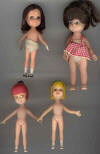 Set of 4 dolls. (1) Uneeda 5" dressed in red check straps w/skirt. Brown curly hair with long hairpiece in center of head. VG. (2) Hasbro. Dolly Darling. Brown painted right side glancing eyes. Painted white gloves on hands. Painted socks & shoes. Nude. VG. (3) Miss Merry 4 1/2" 1966. Painted hair, eyes, socks. Painted ponytail redhead. (4) Same as #3 but blond painted hair with green headband. All four dolls for $12
Two Strawberry shortcake size dolls except they are flat. Both dolls are mint except one is missing her shoe. One doll's name is Chocolate Chip. Not sure on the other, possibly Lemon. Dolls are posable and flat. Cute. SOLD